Top Instagram Influencers' Guide to the Trending Bags of 2021
Now handbag trends are a sore topic for a lot of us ladies. After all, they are the reason a lot of women's clothes do not have adequate pockets. But the vision is cemented; we can't help but check out the trending bags every year to visualize which ones will go best with our wardrobe.
For a lot of us, handbags are an investment. That doesn't necessarily mean that we want to spend a fortune on them, but instead, we want them to last, be timeless, and go with as many outfits as possible. Now, few styles can do just that, and you can see them being revamped by fashion houses every other season.
In the day and age of Instagram, the handbag trends reflect on the top Instagram influencers. The trending bags can be cluttered all over your feed, so here are a few styles isolated by their shapes, sizes, trendiness, and accessibility.
The Trusty Tote
Tote bags are one fashion item that doesn't seem to disappear, partly because they are useful. Every time brands put out new bag collections, they usually try to include totes in them. They can be paired with most outfits, are spacious and valuable for outings, so it is no wonder that they are a few of the trending bags that appear on the timelines of top Instagram influencers.
Hwasa from MAMAMOO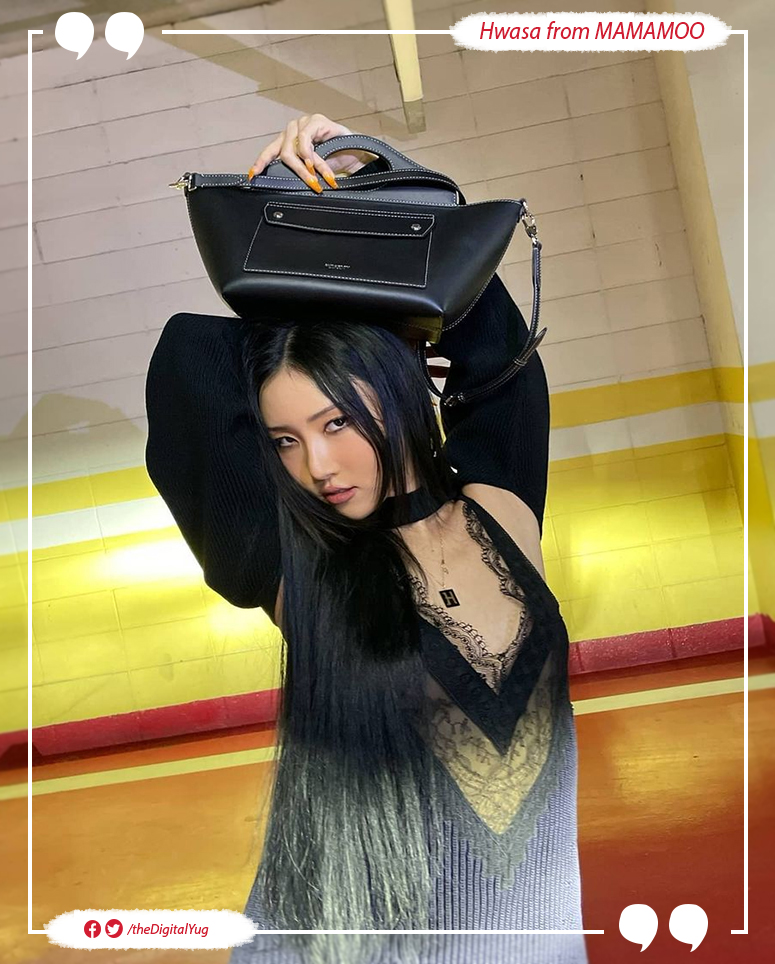 This KPOP beauty recently made her solo debut with an E.P. titled María. As it is known with Hwasa, she has always aspired to challenge the beauty standards of South Korea and the entertainment industry in general. It is not unusual to see her make fashion choices that stand out and step outside the basic mold.
It is no wonder that this unusual tote from Burberry fits right into her aesthetics. From 'The Pocket Bag' collection, this tote is supposed to be the one that is 'remastered in an exaggerated trapezium silhouette.' Showing how old staples can be reimagined in new designs.
Ashnoor Kaur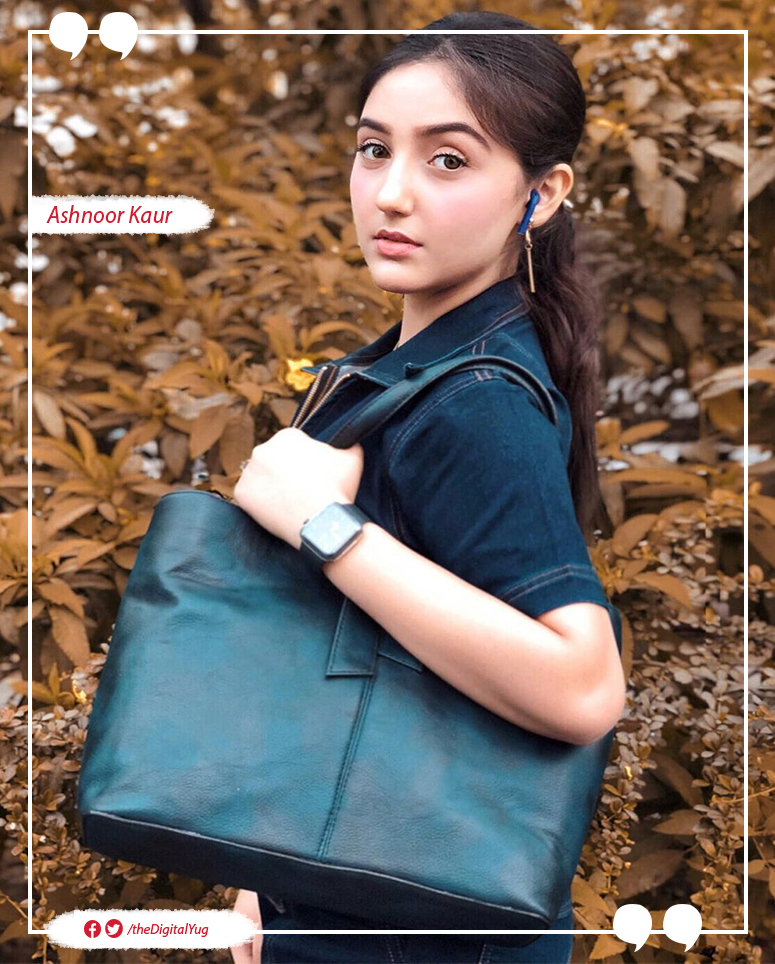 This child actress grew up right in front of our eyes into this versatile Instagram fashionista. Boasting more than six million followers, she is undoubtedly one of the top Instagram influencers from India.
She pairs her denim jumpsuit with a deep green tote and a pair of aviator glasses. It's a clean look that can be carried in several places, from outings with friends to shopping trips, dates, and for the ones with relaxed dress codes, even office, and colleges.
Jung Chae Yeon from I.O.I and BLACKPINK's Lisa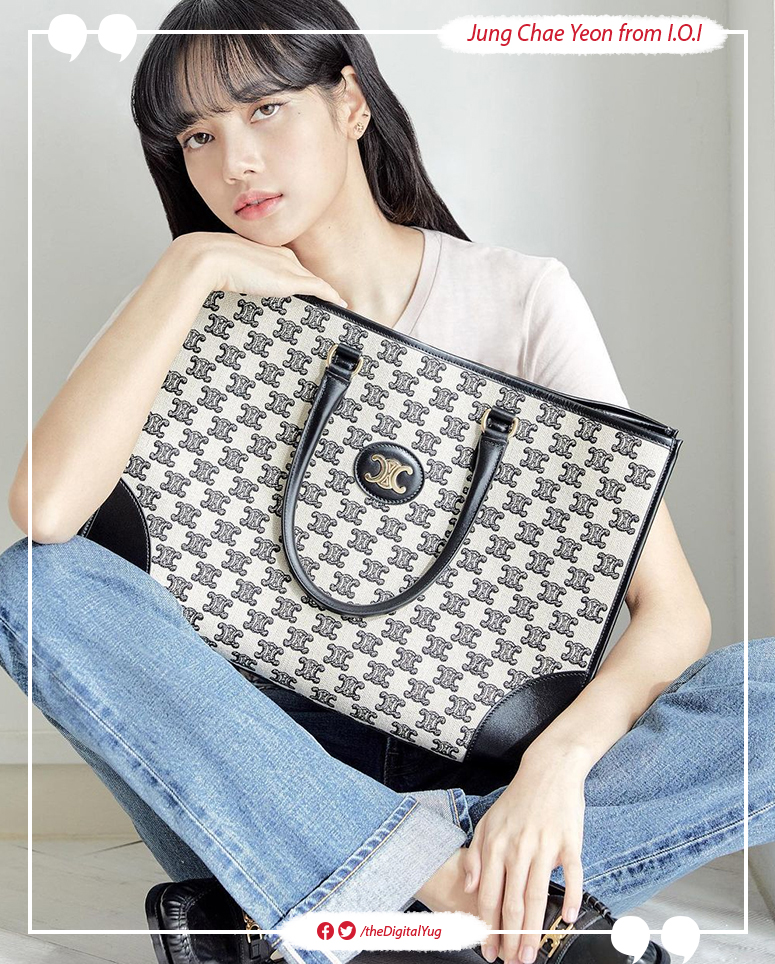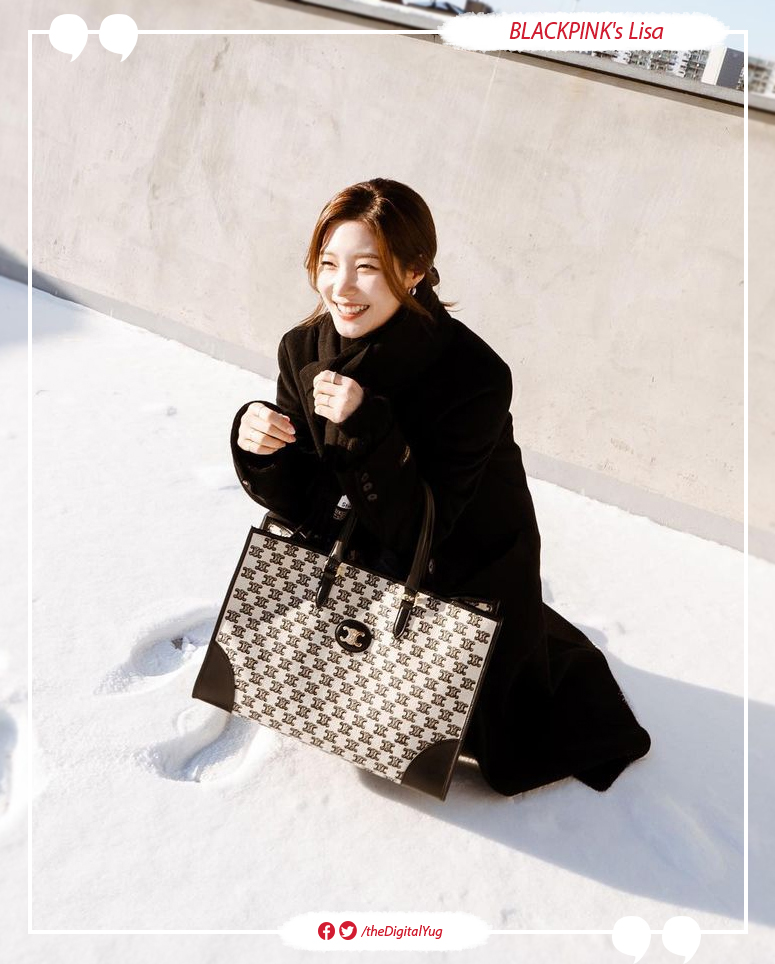 Celine, like most luxury brands, knows their bags and customers well. They have been contributing to the list of trending bags ever since their inception. And it is no wonder that they have beautiful totes in their collection as well.
This tote from Celine showcases 'Horizontal Cabas in Textile with Triomphe Embroidery.' They introduced this collection in China in a Weibo campaign with Blackpink's Lisa.
In January of this year, the former member of the project group I.O.I, Jung Chae Yeon, carried this bag for a casual outing.
Chase Yeon pairs the bag with a winter outfit, while Blackpink's Lisa adds it to casual denim and white t-shirt look for the campaign shoot. These two completely different looks are tied together by the same handbag, showcasing how versatile totes can be.
The Chains Are Still Here
Bags with chains attached to shoulder straps have been here for a long time. But since the last few years, they have been extra visible with brands ceaselessly making them part of their major collections. Every other trending bag collection has bags with statement chain attachments as the shoulder strap. And that is definitely for good reasons.
Our top Instagram influencers, not unlike us, are chained to this style, and we can see why.
Jessi (Jessica Ho)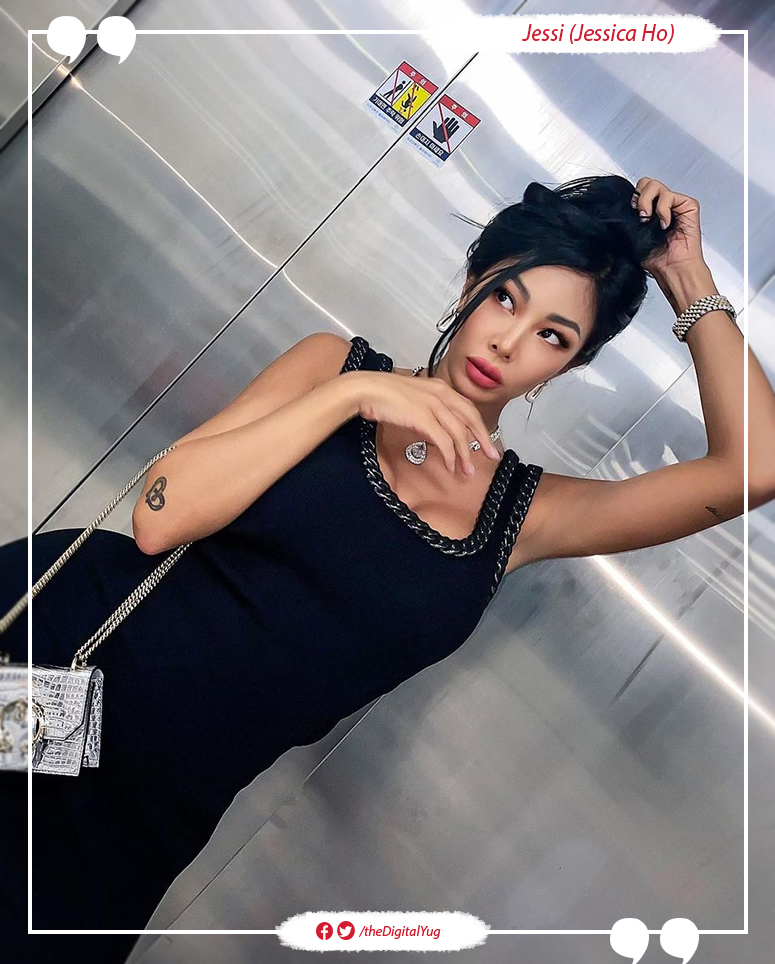 This fierce KPOP rapper has changed the outlook of the industry with her style. She has made her mark with bold and charismatic music choices and continues to do so with her fashion choices.
She is seen wearing a black Alexander Wang bodycon dress, with chain details on the neck and straps. She pairs it with an gorgeous sling in metallic silver by Jimmy Choo, with a dense silver chain as shoulder straps.
Metallic bedazzled clutches and sling bags are must-haves for people who love to attend parties. They can be paired with outfits of almost any color and look amazing with Indian outfits as well.
Kendall Jenner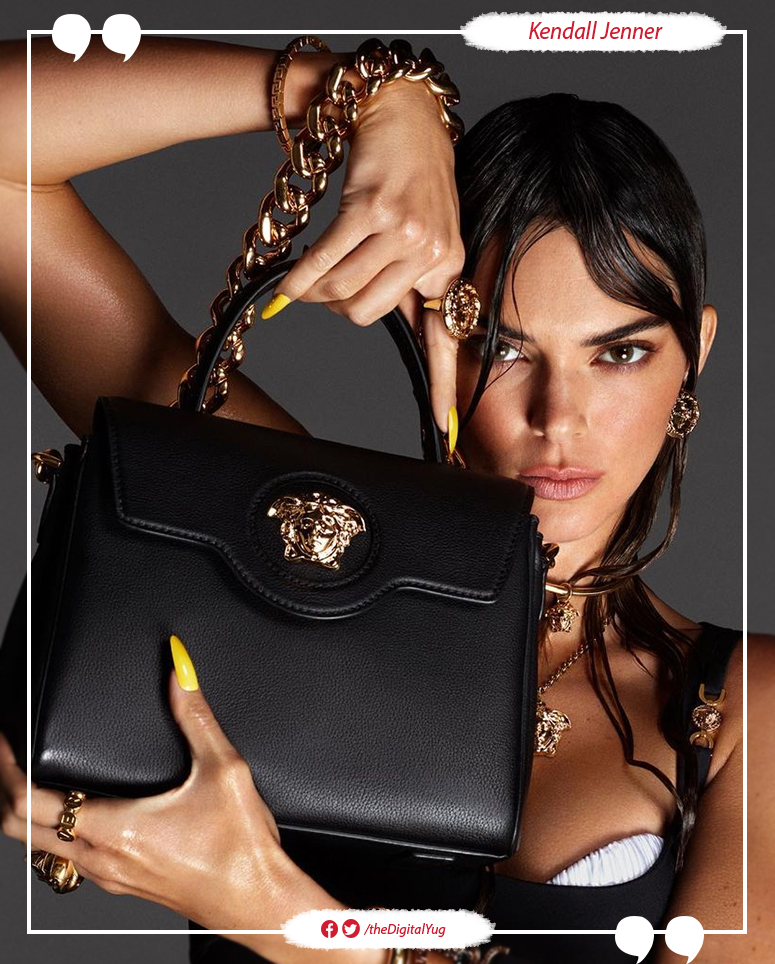 This top model was born into the world of high fashion, and with extreme ease, wormed her way into the list of top Instagram influencers. Handbags become trending bags when donned by either her or any one of her family members; no wonder she is one of the first choices for brand campaigns.
Here she poses for the Versace SS21 campaign with a solid black handbag with a thick statement gold chain for shoulder strap. The black becomes the perfect surface for the gold to shine through, and the Versace logo glinting gloriously is a cherry on top.
Barbara Palvin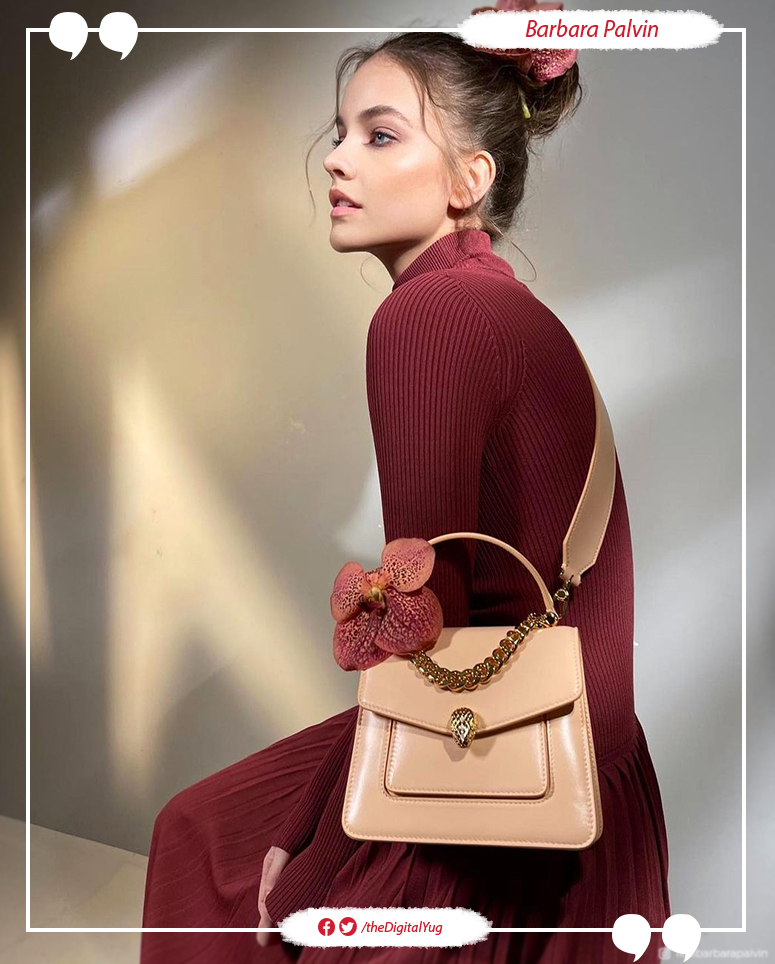 If you have been browsing the trending bags on Instagram, you'd know that the Bulgari Serpenti bags are everywhere. With their signature serpent head and bold chains, they're easily distinguishable and are slowly becoming parts of top Instagram influencer' wardrobes.
Barbara Palvin pairs a warm tan bag with a broad shoulder strap with a maroon maxi dress. The chain detail in this Serpenti bag, unlike the previous two, doesn't serve much of a purpose. They are there for the edgy vibes, and we are here for it.
The Shoulder Cradle
These tiny, comfy, handy-looking bags are the definition of trending bags in the year 2021. And surprisingly, they make a lot of appearances in pictures of celebrities and top fashion influencers winding down.
They can snugly fit under your arms and are comfortable to carry, usually spacious enough to carry your essentials, and more importantly, they complement a lot of different styles. These handbags have the potential to be that one bag that you take everywhere, from office to dates, to parties, etc.
Let's see how our favorite stars have been styling it:
BLACKPINK's Lisa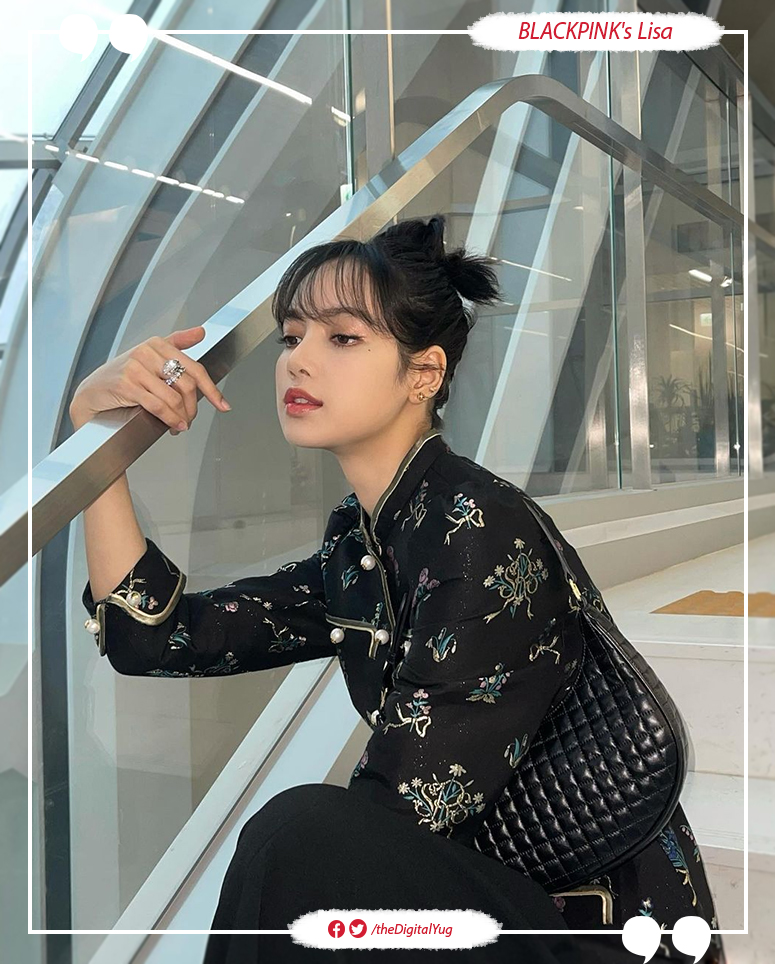 She is the global brand ambassador of Celine, the first ever that Hedi Slimane has ever chosen, and the gravity of that title reflects on her insane handbag collection.
She wears an embroidered black shirt from the brand Sretsis and pairs it with a glossy black bag (The Ava bag in Quilted Lambskin) from the Celine summer 2021 collection.
An excellent black bag goes with every outfit imaginable, and this is no exception. While Celine might not be accessible for most of us, thankfully, a solid black handbag in cradle shape is done by many brands that cater to lower-end products as well.
Kōki (Mitsuki Kimura)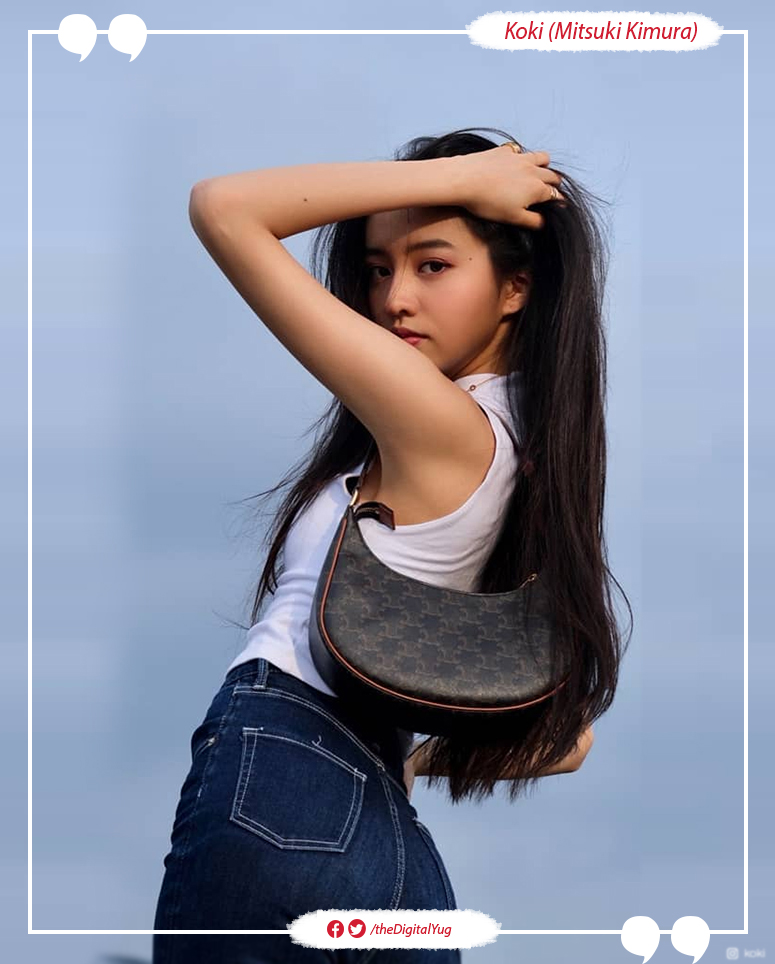 We have another bag from Celine on this list (and can you blame us). Kōki is a Japanese model and songwriter, who has been appearing in product campaigns of many high end brands. She recently appeared in Bulgari's High Jewelry campaign showcasing multiple sets from their new collection.
Here we can see her pairing the Celine Triomphe Canvas bag with a casual pair of denim. The bag adds perfectly to her girl next door charms.
Dua Lipa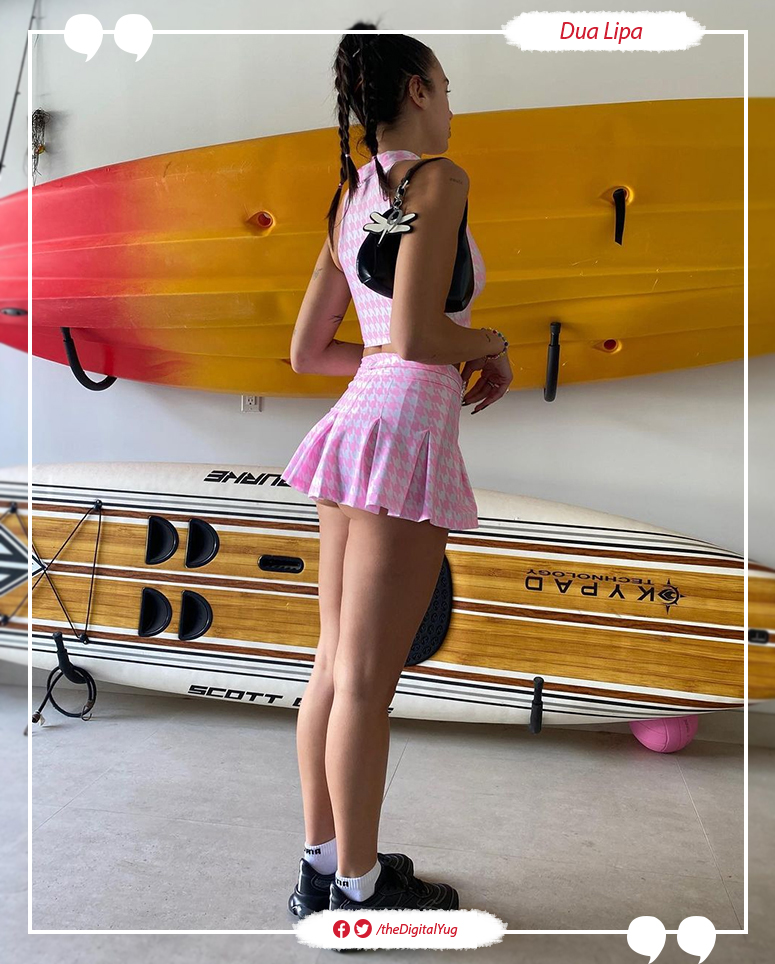 This British pop star is on her way to becoming one of the most significant pop sensations of this decade. And naturally, all our eyes are trained on her fashion choices, and she doesn't disappoint. Daring and fun, her style lives up to the hype.
She wears a cute, coordinated, pink mini skirt and crop top set; she accessorized it with a glossy black handbag with adorable dragonfly and number nine charms.
Final Words:
The trending bags of the year 2021 are here, and our favorite Instagram influencers are busy solidifying these trends for the rest of the year.
While you pick those that fit your aesthetic or take inspiration from these to curate your style, don't forget to follow your instincts and keep your practical needs in mind. Because, while many trends may come and go, we need to make sure the handbags we splurge on are here to stay.